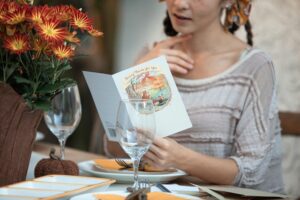 Thanksgiving is always a special time for friends and family to gather for food, fun, and festivities. It's also a time to show each other how thankful we are for one another, and grateful for the kindness that has been shown to us. If you've been invited to a Thanksgiving celebration, you might be wondering what type of hostess gift you should bring along. In this article, we'll share some ideas that will help show the hostess your appreciation.
Five Hostess Gifts That Are Sure to Please
Wine Glasses and Wine: If adult beverages will be served at the feast you're attending, why not bring along a set of wine glasses and a nice bottle of wine? If you'd like to share a gift with an Adirondack flair, consider a set of etched wine glasses from the Speculator Department Store paired with a bottle of Adirondack Winery's Red Carriage, a cranberry-infused wine.
Cheese Board & Utensils: Load up a cheese board with some delicious meats, cheeses, nuts, and berries. Include a set of cheese knives, and you not only have a tasty dish that can be enjoyed by all at the feast, but a nice leave-behind for the hostess to use themselves!
Pie with Pie Plate: Who doesn't love a delicious pie on Thanksgiving? And if you bring it in a special pie plate that the hostess can keep, it becomes an even more thoughtful gift.
Candles with Candlesticks: Creating a beautiful ambiance at Thanksgiving is all a part of making the feast special. Beautiful candlesticks for the table are a thoughtful gift and one that will be appreciated for years to come. Be sure to choose unscented candles, though. While the aroma of a scented candle can be delightful, it can interfere with the flavors of the feast!
Napkins with Napkin Rings: A set of cloth napkins accompanied by metal, glass, or wooden rings is an attractive gift that your hostess can either save for special occasions or use every day and remember your thoughtfulness.
Not sure what to get your host or hostess? Stop by the Speculator Dept. Store.
Whether you're looking for one of the gifts on the list above or would like a few more ideas, you're sure to find the perfect hostess gift at the Speculator Department Store. From tableware and glassware to candles and home décor, we have a wide range of giftable items for every occasion. Stop in and see us today!