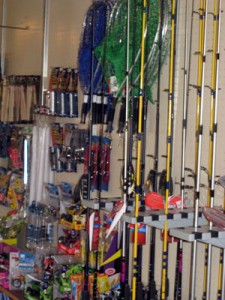 Fishing is one of the highlights of living in or visiting Speculator, N.Y. There is is so much great fishing available at the many local area lakes and streams in the Adirondacks. If you're an avid angler, you'll be pleased to know that we carry a variety of fishing tackle supplies for your day on the lake or streams in the area. We're located just off the NY 8, so you can stop by as your head out to your favorite fishing hole.
Find Your Fishing Gear Here
Whether you're a new fisherman or a seasoned angler, we carry a variety of fishing equipment, including:
Lures for lake fishing and stream fishing
Fishing lines in a variety of test weights
Rods for serious and casual anglers
Reels for your style of fishing and budget
Fishing hats for protecting your head from the sun and stray lures
Nets for bringing the big one into the boat.
Bobbers and bait
Weights, swivels, and other hardware
So, before you head out to the lake or river for the catch of the day, stop by Speculator Department Store for and stock up on your fishing tackle supplies. We're sure you'll find everything you need to make your next "fish story" a true one!