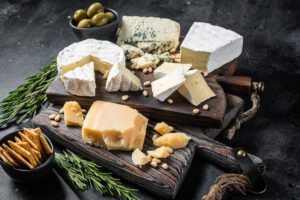 Now that the fall season has arrived, people are starting to think about cozy home gatherings with family and friends. Whether it's just a couple of friends over to play games or watch a movie, or a group of people over to watch a football game, autumn is definitely the time for reconnecting.
Of course, no matter what type of gathering you're hosting, you'll want to make sure you have plenty of snacks and refreshments available. If you're looking for an appetizer that's sure to please most people on your guest list, all you need to do is say cheese! In this article, we'll talk about putting together a great cheese board for your guests, and the different types of cheeses you might choose. Keep reading to learn more!
Building the Best Cheese Board
If you're planning on creating a cheese board for your next party, you'll want to make sure you have enough of each type of cheese – about two ounces per person. Cheese is also best served at room temperature, so be sure to remove it from the fridge at least half an hour before serving. And, when creating your board, incorporate cheeses that offer a variety of textures and flavors – usually one from each of the following:
Hard Cheese: Select options like parmesan, gouda, and asiago if you'd like to include hard cheeses on your board. Cut them into small, bite-sized chunks as a little goes a long way with these types of cheeses.
Firm Cheese: This is usually the most popular variety and includes Swiss, gruyere, manchego, and the ever-popular cheddar. Cut firmer selections into cubes, wedges, or squares.
Semi-Soft Cheese: Semi-soft cheeses like Havarti and muenster are also crowd-pleasers. Many semi-soft kinds of cheese also come in specialty varieties, either smoked or with herbs and garlic for a unique addition to your cheese board.
Soft Cheese: Soft cheeses include types like brie and camembert, which are often sold in small wheels. You can place the entire wheel on your cheese tray; just remember to cut the first slice as guests often aren't sure if they should dig into the wheel themselves!
Crumbled Cheese: These cheeses are the types you often find crumbled on a salad or as a dish topping and include varieties like feta and blue cheese. You can place some of the crumbled cheese in a serving dish on the tray as these cheeses can get a bit messy!
Need an eye-catching cheese board? Check out the Speculator Department Store.
Of course, you'll want to serve your delicious cheeses on a beautiful wooden cutting board or serving board, which you'll find at the Speculator Dept. Store. We're pleased to offer a variety of wooden cutting and serving boards, some with burnings of local lakes. Stop by and see what we have in store for you today!