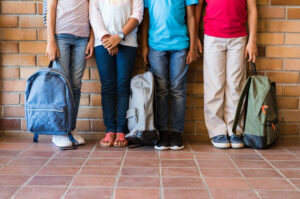 It's almost time for the kids to head back to school, and unfortunately means it's also time to spend money on a school wardrobe and supplies. While most schools provide supply lists to help you know how to stock their backpacks, you might be wondering what a good rule of thumb might be for clothing needs. While older kids will likely have their own ideas in mind when it comes to shopping for school clothes, shopping for smaller children may be a bit easier.
In general, younger children need the following items for school:
Hoodies – 2-3
Jeans – 3 pairs
Long Sleeved T-Shirts – 2-3
Sweaters – 2
Pants/Shorts – 2-3 pairs
Short-Sleeved Shirts/T-Shirts – 4-6
Socks – 10 pairs (it's good to have enough to send in extras)
Underwear – 7 pairs
You'll also want to make sure they have shoes that fit – younger kids often outgrow shoes quickly, so casual shoes or sneakers from last year may no longer fit properly.
And, you'll want to check to see if their outerwear still fits.
Most kids need the following outerwear for back-to-school:
Windbreaker
Rain Jacket
Fleece Jacket
Winter Coat
Hat/Mittens
Boots
The Speculator Department Store carries a wide range of children's clothing.
At the Speculator Dept. Store, we can help you get your kids ready for back to school. We carry a range of children's clothing items, including jeans, shorts, hoodies, T-shirts, and outerwear. Stop by and let us help you get your kids ready for the school year in style!