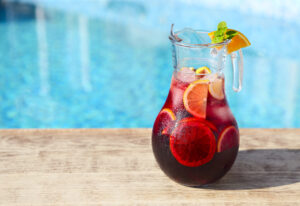 With summer in full swing, now is the perfect time for all of your outdoor occasions. Warm, sunny days are splendid for everything from family cookouts to pool parties to small, intimate gatherings of just a few close friends. At Speculator Department Store, nothing says summer to us like flavorful beverages and the company of loved ones. Check out some of our favorite summer beverages, and let us help you make your summer celebration one to remember.
Looking to quench the thirst of a crowd at your summer barbeque or poolside party? Shake things up with a fruity sangria.
One of the most quintessential summer beverages, sangria is a delicious alcoholic punch featuring a harmonious mixture of red wine and fresh fruit. By nature, sangria tends to be made in large batches, so you will surely have plenty to go around. Our favorite recipe for a summertime sangria is based on an amazing recipe from Delish and it's sure to please a crowd!
Summer Sangria
INGREDIENTS
1 (750-ml.) bottle of red wine (we recommend Saint Lawrence Red from Thousand Islands Winery)
1 c. orange juice
1/2 c. Cointreau or triple sec
1/4 c. granulated sugar
1 orange, sliced
1 c. fresh blackberries
1 c. fresh blueberries
1 c. sliced strawberries
1 (12-oz.) can seltzer
DIRECTIONS
In a large pitcher, mix wine, orange juice, Cointreau, and sugar. Stir in oranges, blackberries, blueberries, and strawberries.
Refrigerate until ready to serve, preferably for 2 hours. Top off with seltzer before serving. (Six to eight servings.)
Planning a small, intimate garden party with a few close friends? Try some mint mojitos served in keepsake glassware.
With a cool, crisp taste, mint mojitos embody the light breeze of the perfect summer evening. While not as popular as other summer cocktails like margaritas or strawberry daiquiris, mojitos offer a refreshing, rejuvenating taste unlike anything else. One of our favorite mojito recipes comes from Love and Lemons and you are sure to enjoy it as much as we do!
Mint Mojitos (one serving)
INGREDIENTS
5 mint leaves, more for garnish
2 ounces white rum
1-ounce fresh lime juice
½ ounce simple syrup or honey
Ice
Club soda or sparkling water
Lime slices, for garnish
DIRECTIONS
Lightly muddle the mint in the bottom of a cocktail shaker until aromatic. Add the rum, lime juice, simple syrup, a handful of ice, and shake.
Strain into a glass filled with ice. Top with a splash of club soda and garnish with lime slices and more mint
Speculator Dept. Store can help with your entertainment needs.
To make the occasion especially memorable, serve your cocktails in etched glassware, depicting your favorite Adirondack getaway from Speculator Department Store. At Speculator Department Store, we carry a wide variety of glassware that is sure to make any event spectacular.
However you celebrate summer, let Speculator Department Store help. With a variety of products to choose from, you are sure to find the perfect accompaniment to your summer gathering. Come visit us today at 2901 NY-8, Speculator, NY. Speculator Department Store is open Monday-Sunday from 9 am to 5 pm. Call us at (518) 548.6123 for additional information.