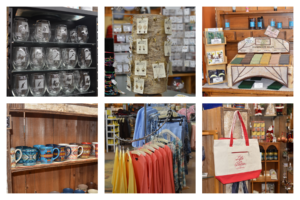 Mother's Day is just a few short weeks away, and it can be hard to find the perfect gift for the best mom. Speculator Department Store has a variety of gifts that are sure to make her day. Here are some of our favorite gift ideas for a wonderful Mother's Day.
No Need to 'Wine' About It
Do you and the mom in your life have special memories in the Adirondacks? We carry a selection of glasses, engraved with various lakes around the area. Paired with a nice bottle of her favorite wine and local cheese, this can be an amazing gift for an amazing mom.
All About Artisan
At Speculator Department Store, we carry a wide variety of handmade jewelry made by local artisans. Even for the mom who has everything, a pair of locally made earrings or a lovely necklace will add a unique charm to her armoire.
A Little R&R
After a long day of being the world's best mom, there's nothing the mother in your life needs more than some rest and relaxation. Speculator Department Store offers an excellent selection of artisan soaps and candles that are sure to deliver the peace she needs. Bundled together in a basket with her favorite treat, a spa basket is sure to give her a brief retreat.
Don't Talk to Me Until I've Had My Coffee
Is the mom in your life a coffee fanatic? Gift her some new mugs to celebrate the amazing mom she is. At Speculator Department Store, we carry a variety of mugs, so are you certain to find her new favorite go-to mug. With a bag of her favorite coffee and some specialty creamer, this will make for a wonderful gift.
You Can Never Have Too Many Clothes
Clothing can be a risky gift, but if you know her size, it can be a great choice. With the best brands and a variety of options, you can find something she'll cherish for years to come. From Patagonia to Pendleton, we have you covered.
I Really Don't Want Anything
We all know that mom who "doesn't want anything." Instead of giving her a regular gift, get her something she can use for practical purposes. A nice tote bag for shopping and a gift card to your local grocery store (Charlie Johns, perhaps?) can be a wonderful gift for the most stubborn mom you know.
Whatever you decide to gift the mother in your life this Mother's Day, look no further than Speculator Department Store. From glassware to clothing, we have whatever you need to make a truly remarkable day for a remarkable mother. Come visit us today at 2901 NY-8, Speculator, NY. Speculator Department Store is open Monday-Sunday from 9 am to 5 pm. Call us at (518) 548.6123 for additional information.