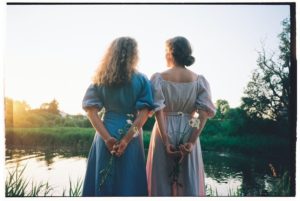 Spring is here and for many of us, it is time for renewal. From classic "spring cleaning" to new garden plans, something about spring makes us want to get a restart. At Speculator Department Store, you can find everything you need to update your spring/summer wardrobe in line with the latest trends. 
For 2022, everything is going back to 70s style with a touch of 90s influence. Check out some of the latest styles for both men and women.
For women, "prairecore" is having another moment in the sun.
Essentially, "prairecore" is just fashion inspired by the pioneer days, and can help provide a softer edge to your current wardrobe. 2022 is all about gingham patterns, puff sleeves, ruffles, and other classic patterns and prints (think florals, plaid, paisley, and lace). For the tomboys among us, denim overalls paired with a patterned t-shirt are yet another "prairecore" look coming back into fashion.
For those of us that could take or leave the pioneer-inspired ensembles, bold colors are all the rage right now as well. According to InStyle, strong pops of color like kelly green, cobalt blue, hot pink, and neon orange are wardrobe must-haves this spring. This season, we're not tempering our vibrant colors either. Right now, "color-blocking" – or pairing two vibrant colors together – is the trend, so feel free to play around with the color pieces in your wardrobe for an affordable ensemble that looks high fashion. Color combinations like pink and green, blue and orange, or green and red are sure to make a great statement.
Layers on layers are the latest trend in men's clothing
Much like for women, 70s style blended with some Y2K trends is in style for men. Overall, the latest trend in men's clothing is gravitating towards smart casual to business casual clothing pieces, but that doesn't mean it needs to be boring. 
For the office, wool suit jackets, turtleneck sweaters, heavy collared shirts, flared bottom pants are the trend for spring. For an elevated look, GQ recommends incorporating a heavy chain, silk scarf, glasses, or a nice vest to really make your outfit pop.
For a smart-casual look, polo shirts, thermal knits, and varsity jackets are back in fashion. Much like with the business casual look, it's all about layers. Dress up a basic t-shirt and jeans ensemble with a polo shirt or varsity jacket for a fashionable look that doesn't break the bank.
Whether you are ready to hop on this year's latest trends or are just looking to expand your wardrobe, Speculator Department Store has the quality clothing and sportswear you need. With brands you can trust like Pendleton, Patagonia, and Carhartt, Speculator Department Store has got you covered. Come visit us today at 2901 NY-8, Speculator, NY. Speculator Department Store is open Monday-Sunday from 9 am to 5 pm. Call us at (518) 548.6123 for additional information.