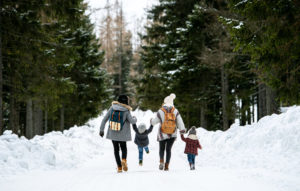 Punxsutawney Phil saw his shadow, and whether you believe a rodent meteorologist or not, the winter weather is still in full swing in Speculator. At this point during the winter, when spring seems so close but yet so far away, it can be difficult to know what to do next with your family. If the kids are feeling bored and you're feeling frazzled, it may be a great time to take part in some winter fun. We're sharing five ideas for fun winter activities, some that you can even do indoors on those really cold or snowy days.
Here are a few ways you can pass the time this winter – and have some fun in the process!
Go sledding!

Sledding is a great way to get your kids active this winter. Not only does it provide exercise but it's also fun to watch them have their own little adventure. You can find sleds at Charlie Johns, right here in Speculator.

Build a "snow" fort!

This is a fun indoor activity for when the weather outside is too frightful for outdoor fun that gets everyone involved. You'll need some white blankets, pillows, and maybe even a few warm and fuzzy fleece blankets if you want to make things extra cozy inside. You can turn on a fun winter movie, and watch from inside the blanket fort with some popcorn and cocoa!

Make a snowman!

This is a simple craft that takes no time at all, and is especially fun if you've already built an outdoor snowman and would like to make this one as a keepsake. All you'll need is white paper plates, construction paper, markers, glitter glue, and tape. Get creative and decorate him however you'd like.

Have a snowball fight!

Whether you're enjoying an outdoor gathering, or if you're just hanging out as a family, a good old-fashioned snowball fight can be a lot of fun. Divide into teams, build your snowballs, and start throwing on the count of three. Please make sure snowballs are free of ice or debris, and never aim for someone's face. Keep the fun safe!

Go ice skating!

If you have a pair of skates, you can enjoy spending some time on the ice. Make sure if you're at a lake or other body of water, the ice is completely frozen. Or, you can create a small rink for the family right in your own backyard – here are some

easy instructions

on how to do it!
Don't forget to visit the Speculator Department Store for your winter outerwear needs. 
At the Speculator Dept. Store, you'll find winter wear that's perfect for any outdoor family activity. From hats and mittens to coats and sweatshirts, we have a great selection of warm clothing and accessories available. And, you can choose from great brands like Patagonia and Carhartt. Stop in today to see our selection – we can help you and your family stay warm all winter long!