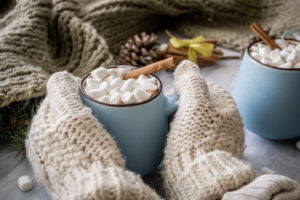 Speculator can be a beautiful winter wonderland, but it's hard to enjoy the great outdoors when you're freezing! If you want to enjoy the winter weather in the Adirondacks, then you will need to bundle up. Fortunately, the Speculator Department Store can help you get the warm winter gear you need to stay cozy and better enjoy the beautiful scenery!
The Speculator Dept. Store has winter wear for the entire family. Whether you need coats, hats, scarves, mittens, gloves – or all of the above – we can help. Not to mention, we carry soft and cozy hoodies, quilted flannel shirts, pants, and socks, too, so you'll be warm from head to toe! We stock premium brands like Pendleton, Patagonia, and Carhartt, so you know you can trust the quality and durability as well.
Of course, when you come in from your outdoor adventure, nothing warms you up quite like a delicious mug of hot cocoa. It's easy to make from scratch (and super yummy). Give this recipe a try and we can bet you won't want to go back to a mix any time soon!
Homemade Hot Cocoa
Ingredients
¼ cup unsweetened cocoa powder
½ cup granulated sugar
1/3 cup hot water
1/8 teaspoon salt
4 cups milk
1 tsp. vanilla extract
Directions
In a medium saucepan, combine the cocoa powder, sugar, water, and salt over medium heat. Cook, stirring until smooth and at a simmer. Reduce heat and stir in milk. (Do not boil.) Remove from heat and stir in vanilla. Pour into mugs and serve.
From comfy-cozy winterwear to your favorite hot cocoa mug, you'll find everything you need to enjoy winter at the Speculator Dept. Store. Stop in today and see what we have in store for you!