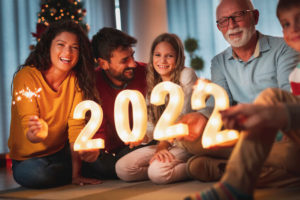 If you're like many of us, you're looking forward to the new year and may want to give 2021 a good send-off. While you may just be planning a get-together with friends and family this year, you can still make it a fun celebration. In this article, we're sharing a few tips that can help make your New Year's Eve party an enjoyable one for all.
Five Tips for Hosting an Unforgettable NYE Party
Create a fun theme. Whether you want to host a party where your guests are dressed to the nines or a more relaxed pajama-themed event, allow yourself to be creative! Don't skimp on the party hats, streamers, noisemakers, and confetti!
Make sure you have plenty of snacks and beverages. It's a good idea to have plenty of soda, beer, and wine on hand for your party. Maybe you'd like to create a signature cocktail (or mocktail) for the event to add to the fun! And snack food rules the day – hors d'oeuvres, chips, veggies, and dips make it easy for people to snack and make clean-up much easier.
Plan some activities. If you're having a small group of people over, why not break out some board games? Pictionary and trivia games are always popular and make it easy for everyone to join in the fun. For music lovers, upbeat music, dancing, and karaoke can be enjoyable, too!
Are kids invited? Have some activities planned for them, too. Kids love games, crafts, and movies. So, if you have children who will be in attendance, make sure to have some things for them to do to pass the time (and a space for the ones to rest who can't quite stay awake to watch the ball drop!)
Don't forget the countdown! Keep the Times Square celebration playing on the TV! When the time comes for the ball to drop, make sure guests have the noisemakers, streamers, and confetti they need on hand to ring in the new year in style!
Would you like to give your guests a memento? Stop by the Speculator Dept. Store!
Whether you'd like to provide your guests with a champagne flute they can keep, or some other special little gift to take home, we can help you find just the right thing! Stop by the store and we'll be more than happy to help you!