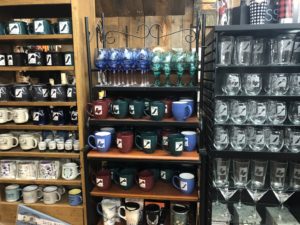 The Speculator Department Store always has beautiful, one-of-a-kind gifts that are perfect for anyone on your gift-giving list. But, did you know we also carry a gorgeous selection of glassware? From wine and old-fashioned glasses to tumblers and steins, you're sure to find gorgeous glassware for your next get-together when you visit us.
In addition to everyday glassware, we're pleased to offer our customers etched glassware as well. These custom glasses feature etchings of our local waters and beautifully represent life in the Adirondacks. We are pleased to offer:
Campfire Mugs
Coffee Mugs
Martini Glasses
Stemmed Wine Glasses
Pilsner Glasses
Pint Glasses
Large Red Wine Stemless Glasses
Our etched glassware collection features Lake Pleasant, Piseco Lake, Sacandaga Lake, Oxbow Lake, and Lake Algonquin.
These are, of course, lovely additions to your own glassware collection, but are also perfect for gift-giving. Why not send your Oktoberfest guests home with a pilsner glass of their very own? Your guests will appreciate having a special memento of the day!
Want something unique to serve your Oktoberfest guests? Try this drink recipe!
For a unique beer concoction this Oktoberfest, or anytime, why not sample a hibiscus hefeweizen shandy? Full of flavor and with a beautiful autumnal color, this drink recipe is simple to make and easy to serve – and full of delightful fall flavor. This recipe serves one and requires some advanced preparation.
Hibiscus Hefeweizen Shandy
Ingredients
8 oz. chilled hibiscus tea
12 oz. Hefeweizen beer
Directions
Brew tea ahead according to package instructions. Seal and store in the refrigerator until well chilled. Pour chilled tea into a pint glass, and top with Hefeweizen beer. Enjoy responsibly!