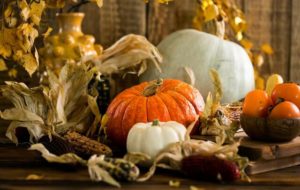 The fall season has arrived, and there are few places more beautiful than the Adirondacks during this time of year. Apple picking, visiting the pumpkin patch, and leaf-peeping are all fun outdoor activities many people enjoy this time of year. Bringing some fall color and comfort into your home can help you surround yourself with the beauty of the season.
In this article, we'll share some suggestions for fall decorating that will make your home as warm and inviting as the season itself! Keep reading for some great fall decorating ideas from HGTV.
Five Ideas for "Fall-ifying" Your Home
Add warm elements to your décor. Place autumnal flowers like sunflowers and mums inside and outside your home. Use decorative copper pails for fresh-cut flowers, and fill a wicker basket with leaves and pine cones (if you gather them yourself, check for bugs before bringing them inside!) Add in items, like napkins and placemats, in rich shades of red, orange, and yellow. 
Choose candles in delicious fall scents. There are so many different kinds of scented candles and wax tarts available on the market today. Scents like apple, pumpkin spice, and autumn leaves are all ways you can bring the delectable aroma of fall indoors.
Make pumpkins and gourds the centerpiece. You can liven up your dining table, coffee table, mantel, and porch with a variety of pumpkins and gourds. Look for unique shapes and colors at your local farm stand or grocer, and don't be afraid to mix faux pumpkins in with the fresh. Use leaves, twigs, pine cones, and seed pods to add even more natural elements to the display.
Change out the towels in your kitchen and bath. Why not add to your home's autumnal décor by bringing some fall elements into these spaces as well? Choose warm colors for bath towels and dishcloths, or choose some towels that have lovely fall patterns. Add in some apple or spice-scented soaps to make these spaces even more inviting.
Look for wall art that resonates with the autumn season. Hand-painted wooden signs and wreaths of fall leaves make for beautiful wall displays. Enjoy photography? Why not go out on a leaf-peeping adventure, and then adorn your walls with framed photos you've taken yourself of Adirondack foliage!
For more fall decorating ideas, visit the Speculator Department Store.
There, you'll find candles, wall décor, tableware, and much more. Visit us today and let us help you find beautiful items to enhance your home this autumn. We can't wait to see you!