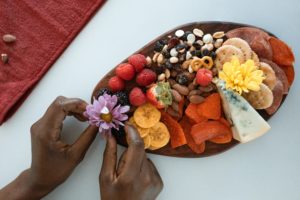 If you need to bring a dish that dazzles to an outdoor gathering this summer, you should know that charcuterie boards are currently all the rage. Charcuterie boards provide an easy, delicious, and attractive addition to just about any table, and because of the diverse foods generally featured, there is usually something for everyone to nosh. Here are a few tips on how you can create a charcuterie board that is a feast for the eyes – and the tummy!
The Board
While some purists insist on using an actual wooden board for the base of the charcuterie board, you really can use just about anything. A large platter or even a cookie sheet lined with parchment paper or a pretty cloth can serve as the base for your charcuterie offerings.
The Basics
Most charcuterie boards feature three main components – meats, cheeses, and bread or crackers. You can go as fancy or as subdued as you'd like when it comes to these elements, depending on the crowd you're serving. Pepperoni, summer sausage, cheeses like cheddar or gouda, and crackers are always crowd-pleasers. But, if you'd like to go all out consider serving meats such as prosciutto, salame, and soppressata, cheeses like brie, camembert, feta, or goat cheese, and sliced baguette.
Fruits, Veggies & Nuts
Many people like to fill in around the meats and cheeses on their charcuterie boards with a variety of fruits and nuts. Dried fruits, berries, grapes, and cherries are popular fruits, while sliced cucumbers, baby carrots, and sugar snap peas are often vegetables of choice. Shelled almonds, cashews, and filberts are all great options if you'd like to include nuts on your board.
The Accompaniments
The accompaniments on your charcuterie board are basically condiments. Small pots of mustard, honey, and preserves are often included, as well as pickled goods like cornichons, olives, and beets. You can either include them directly on the board or serve them on the side if you choose.
How you arrange your charcuterie board is up to you!
Some people like to go for a very simplistic, rustic design when creating their charcuterie board, while others like to go all out and arrange their boards in intricate patterns. Create your board as creatively as you'd like – this is your chance for your imagination to run wild!
Visit Charlie Johns and the Speculator Dept. Store for inspiration.
Charlie Johns will help you get the ingredients you need to create a charcuterie board that's sure to dazzle your guests – and provide them with a tasty treat! Don't forget to stop by the Speculator Dept. Store, where we have platters and more for simple, elegant serving solutions.