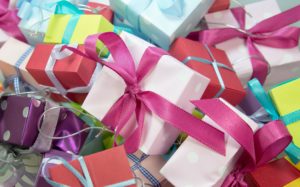 When we think of times of the year when everyone is scrambling to find the perfect gift, our thoughts most often turn to the Christmas season. But one of the biggest gift-giving times of the year is late spring through the summer. During this time of the year, more people are looking for gifts for high school and college graduation, weddings, anniversaries, and end-of-the-year teacher gifts.
Fortunately, you don't have to travel very far to find just the right gift for anyone on your summer gift-giving list. That's because the Speculator Department Store has just about any gift to make someone's special day even more so! When you visit us at the store, you'll find lovely items ranging from glassware and dishes to jewelry and candles. You'll save yourself the hassle of having to go to a big-box store, too.
The Speculator Dept. Store has the gifts you need for teachers and grads, brides, and grooms.
When you visit our store, make sure to browse all of our collections to find the perfect present. We offer beautiful, quality table items, such as table settings, serving dishes, glassware, and more. In our jewelry section, you'll find necklaces, earrings, bracelets, and more, some of which are handcrafted by Adirondack artisans. Here are just a few of the sections in our store filled with gift-giving ideas:
Stop in and visit us – you're sure to find the perfect present.
We're located right in the heart of Speculator on Route 8 – so whether you live here year-round or you're just visiting, we're easy to find! We look forward to seeing you and helping you find the perfect gift for everyone on your summertime gift-giving list!