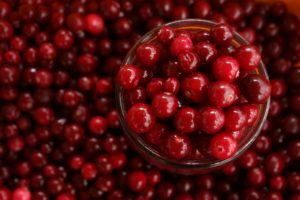 When planning Thanksgiving dinner, many people like to stick to traditional dishes. However, it can be fun to try a new dish that's a twist on a classic. Cranberry sauce is a staple at many Thanksgiving feasts, but making homemade cranberry chutney is easy and offers a delicious take on the usual canned cranberry sauce. Because it's made with fresh ingredients, it's tasty and more nutritious, too. And, you can find all the ingredients you need for this cranberry chutney recipe, found originally on Mel's Kitchen Café, right at Charlie Johns!
Fresh Cranberry Chutney
Ingredients
4 cups fresh cranberries
1 cup golden raisins
½ cup granulated sugar
¾ cup firmly packed brown sugar
2 tsp. ground cinnamon
1 tsp. minced fresh ginger root
¼ tsp. ground cloves
1 cup water
½ cup finely minced onion
½ cup chopped tart apples (Granny Smith works great)
½ cup finely chopped celery
Directions
In a medium-sized saucepan, combine cranberries, raisins, sugars, cinnamon, ginger, cloves, and water. Bring to a boil over medium-high heat, then reduce heat and simmer over low heat until berries pop open, about 5-7 minutes.
Add the onion, apple, and celery to the mixture. Cook for about 5-10 more minutes, or until the mixture begins to thicken, stirring occasionally. Place the mixture into a container, allow to cool, and then refrigerate. Refrigerating overnight is best for flavors to blend.
Cranberry chutney is one of the prettiest side dishes, too – so why not choose an equally pretty serving dish at the Speculator Department Store? We have many beautiful tableware items available to help you set the perfect Thanksgiving table. Visit us today!