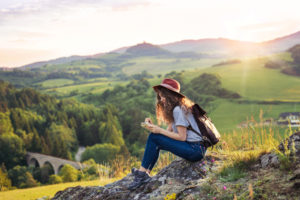 This summer has been different for all of us, and while it's important to stay safe and take the measures necessary to keep others safe as well, taking some time to enjoy all that summer in the Adirondacks has to offer is essential, too. Fortunately, there are many activities people can participate in that allow for social distancing, but provide an opportunity to be active, enjoy nature, and have fun!
If you're looking for ways to take advantage of the summer season here in the Speculator area, all while practicing social distancing, we have some suggestions for you. Whether you're into looking at the natural world, enjoying a relaxing day at the lake, or angling for the catch of the day, there is no shortage of outdoor recreation opportunities for you and your family here in the Adirondacks.
5 Social Distancing Adirondack Activities for You & Your Family
While enjoyable outdoor activities are virtually limitless here in our beautiful mountains, here are five suggestions you might enjoy:
Hiking: Going on a hike is an easy way to exercise, enjoy nature, and maintain social distancing. There are many trails in the Speculator area that range from easy to difficult. You can learn more about the trails in and around Speculator at Alltrails.
Fishing: For many people, there isn't much that's more relaxing than spending a quiet day at the lake fishing. There are ample opportunities for angling in Speculator! Lake Pleasant, Fawn Lake, Sacandaga Lake are just a few of the great fishing spots here.
Camping: Whether you and your family prefer rough camping, or you have a camping trailer you enjoy staying in, there are campgrounds in and around Speculator that you're sure to enjoy. Campsites are open – please visit the NY Dept. of Conservation website to learn more.
Boating: A quiet day paddling around a lake is probably about the most relaxing, socially distanced activity in which you can participate. Not only can you enjoy the serenity of our beautiful waterways, but you can also unwind – bring a book, some drinks, and snacks, and float away for the day!
Outdoor Music: There are still a few opportunities left to enjoy Music on the Point, a free concert series in Speculator sponsored by Oak Mountain, Charlie Johns, Speculator Department Store, and Melody Lodge. Live bands perform Wednesdays from 6:30 p.m. to 8:30 p.m. at Osborne Point. The outdoor venue allows for safe social distancing, too!
And, don't forget to stop by Charlie Johns and the Speculator Dept. Store for your needs.
Whether you're heading out on the hiking trail, ready to spend a day fishing, or need drinks and snacks to enjoy while listening to live music, our stores have you covered. We can provide you with just about anything you might need to make your outdoor activities, no matter what they may be, more enjoyable. Stop by our stores and we will be glad to help you!