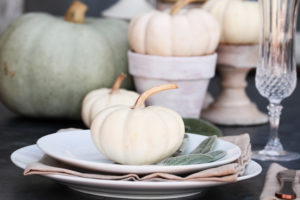 Living in Speculator, NY means that we're surrounded by the gorgeous Adirondack mountains. Each season brings with it its own unique beauty, from the fresh green buds of spring, the warm lakeside summer breezes, the explosion of color in autumn, or our crisp, silver-white winters. During the holiday season, fall and winter meet, and a rustic ambiance fills the air.
Fallen leaves and twigs, pinecones, and sunlight over a crystal layer of snow set the scene in our mountains this time of year, so why not bring that scene to your holiday table? It's extremely simple to create a rustic table setting that your guests will love. All you need is your own creativity, and a great place to find those little details you might need to set the perfect table.
9 Easy Tips For Creating A Rustic Holiday Table
It's as simple as can be to set a table reminiscent of the mountains surrounding Speculator, and these tips can help you get started – just add your own creativity!
Mason jars offer a whimsical touch. You can use them for drinks, vases, or tea light holders.
Keep your actual dinnerware simple. White or light neutral colors allow the food on the plate to take center stage. Or, opt for dinnerware in fun patterns that depict life right here in the Adirondacks.
Linen napkins are a nice touch. They need not be perfect – a little bit worn and frayed is okay, since it adds to the rustic feel of the scene. Much-loved, vintage linens are often the best.
Fresh herbs not only look beautiful, but also add to the olfactory experience for your guests. Consider placing a sprig of rosemary on the linens by each plate, and some fresh herbs in jars around the table.
Adding in hand-lettered place cards is a touch that will not only delight your guests, but will help them avoid confusion as to where to sit!
White or cream-colored candles that are unscented are a beautiful touch. Place them in mason jars, in mismatched candlestick holders, or on vintage saucers.
Don't worry about matching your silverware! It will give your table a relaxed feel – just stick to a common theme so it doesn't look too chaotic!
Clear glass bowls or large jars filled with leaves, twigs, pinecones, and strings of battery-operated LED white lights are a lovely way to bring the outdoors inside for your festivity.
You can get the kids involved by letting them create the placemats. In most party stores you can find plain paper placemats. Give them some crayons and a few Adirondack-themed stencils (trees, bears, wolves, moose) and let them create fun scenes. Or, bring out the kid in the adults at the party by providing white paper placemats – just bundle a few crayons and tie with twine, and place at each table setting.
Get the tableware you need for your holiday table at the Speculator Department Store.
When you visit us at the Speculator Dept. Store for your holiday table needs, you'll find a great assortment of tableware, linens, glassware, flatware, candlesticks and much more. We also carry a variety of candle and table décor – so be sure to stop in and let us help you set the perfect table this Thanksgiving!