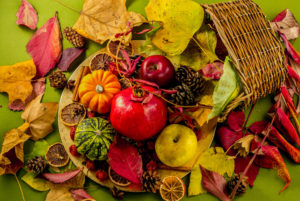 Perhaps one of the best parts of autumn is the amazing scents that seem to be synonymous with the season. Fresh, crisp apples, pumpkin pie spices, falling leaves and cool clean air all become a part of the scenery when September arrives. Most people welcome the beauty that autumn brings, and enjoy bringing the sweet seasonal aromas into their homes.
If you'd like to make your home smell a bit more "fall-ish" this year, we have a few suggestions on how you can enjoy these delectable scents – without overwhelming your senses. These ideas are all-natural, so you won't have to worry about adding any chemical, artificial scents to your environment. All you'll smell is fall!
Three Natural Ways to Add the Scent of Fall to Your Home
Simmer water, fruit peelings and spices on your stove. Bring fruit peelings like apple, orange or lemon peels, along with cinnamon sticks or a couple of tablespoons of ground cinnamon, to a simmer on your stove. Then turn off the heat, and allow the delicately scented steam to permeate the air of your home.
Gather pine cones and add some essential oils. You can easily find pine cones that have fallen from the trees here in the Adirondacks. If they're damp, spread them out and allow them to dry a bit, and then add a few drops of cinnamon essential oil to each one. You don't need more than one or two drops per pine cone. Display in a decorative bowl or basket and enjoy!
Freshen up your carpets with an easy, great-smelling rug deodorizer. Mix ½ cup borax, ½ cup baking soda, and one teaspoon of ground cinnamon or cloves together in a mason jar, and shake well. Shake evenly over your carpet, allow to sit for 15 minutes and then vacuum thoroughly. DO NOT use ground spices if you have lighter carpets, however, as it could cause discoloration. Instead, scent the powdered mixture with 30 or so drops of essential oil.
And, the Speculator Dept. Store can help you decorate for fall, too.
When you visit the Speculator Department Store, you'll see that we have many beautiful seasonal items that can help make your home autumn-ready. Stop by the store and check out some of our fall décor items, perfect for your home, or to give as a gift.