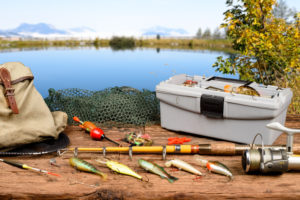 One of the main attractions of the Speculator region of the Adirondacks is fishing. With our many lakes and streams, coupled with a variety of different types of fish, Speculator is an angler's delight. But what if you arrive here for your fishing vacation, only to discover you're missing some tackle – or even your pole? Or what if you need fishing supplies like lines, hooks and sinkers? You should know, you don't have to worry – the Speculator Department Store offers a wide variety of fishing goods.
From fishing poles to the outerwear you need to enjoy your angling expedition, you can count on the Speculator Dept. Store to help. We're pleased to offer visitors and locals alike a robust selection of fishing goods so your trip is a success. Here's a sampling of the fishing tackle and supply items we have to offer:
Lures
Lines
Rods
Reels
Hooks
Sinkers
Imitation Bait
Bobbers
Fishing Hats
So whether you're an avid angler, or just visiting us on vacation and decide you want to try fishing, we can help you get everything you need to take part in this popular Adirondack sport. All of our fishing goods are conveniently located on our enclosed side porch, but be sure to browse around inside the store, where you can find quality outerwear, including a complete line of Patagonia clothing.
Speculator Dept. Store is located right in the heart of Speculator and is open seven days a week. Stop in and experience all that our Adirondack department store has to offer, including all the fishing supplies you'll need. Questions? Please feel free to give us a call at 518.548.6123 and we will be more than happy to assist you.