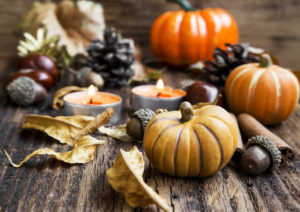 While Halloween may be behind us, pumpkin season is far from over. However, with the pumpkin carving over for the season, just how can you incorporate pumpkins into your decor or other areas of your life without the use of jack-o-lanterns or of course, the seasonal favorite that is the pumpkin spice latte! Here are three ideas to help you get the most out of pumpkin season in your home.
We love to use smaller pumpkins in our tabletop decor during the fall. One way of doing this is to carve out the pumpkin and use it as a decorative vase for a festive floral arrangement. We recommend starting with a smaller container to create the arrangement itself and then placing that container inside the hollowed out pumpkin. This setup will allow the flowers to receive water but do so in a stylish and seasonal manner without the worry of the pumpkin leaking or too quickly rotting due to the added moisture from the water. Additionally, to help your cut pumpkins last longer a thin layer of petroleum jelly over the exposed fleshy parts of the pumpkin will do the trick.
A second way that we like to use pumpkins is as part of a centerpiece arrangement with other seasonal produce. Simply arranging pumpkins, squash and decorative gourds on a platter can create an attractive conversation piece. They also look fantastic among potted succulents or decorative cabbage. Another idea we like requires placing floral Styrofoam in the base of your favorite centerpiece container. Use that base to firmly secure a candle or two and then surround the candle with small pumpkins, gourds, and seasonal vase fillers. This creates not only a beautiful table arrangement but also the perfect lighting from which to enjoy dinner.
Finally, since there is no such thing as too much pumpkin, what about pumpkin soup served inside of roasted pumpkins? We love this easy recipe from The Food Network. While it does require a bit of prep time it is the perfect festive addition to any fall meal and will certainly entertain your guests, not to mention reduce the number of dishes that need to be done after dinner, leaving more time to relax.
Pumpkin is simply one of our favorites when it comes to all of the senses, and we love to indulge during this time of year before we transition to the sights and smells of balsam and cinnamon. What are some of your favorite ways to incorporate pumpkin into your life during the fall? When you stop into the Speculator Dept. Store, you're sure to find numerous ideas for your autumn table, from quality tableware and place settings, to beautifully handcrafted candles. Visit us today for your fall inspiration!