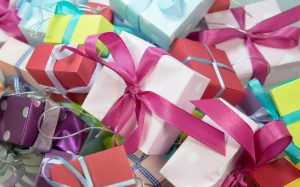 It's November, and that means the holiday season is upon us. This year, why not avoid the hustle and bustle of city shopping, and come see the beautiful gift items that await you at the Speculator Department Store? No matter what tastes the people on your gift-giving list have, you are sure to find the perfect present for them. The store carries a wide selection of items, for people of all ages and all interests.
Adirondack Gifts & Souvenirs: The Speculator Department Store carries a wide variety of Adirondack-themed items, including mugs, sweatshirts, T-shirts, knick-knacks and more. Whether you're looking for a special clothing item, bear or moose themed décor, or Adirondack-inspired artwork, you'll find it here.
Clothing & Sportswear: From fashionable scarves and accessories to rugged outdoor wear, you'll find a wide variety of giftable clothing items in the store's ample clothing department. From infants and children, to the men and women on your gift-giving list, the clothing selection at Speculator Department Store has something for everyone. And, you can choose from high-quality name brands such as Columbia, and Carhartt.
Home Décor & Housewares: There is a wide variety of beautiful home décor and housewares to choose from at the Speculator Department Store. You'll find beautiful table settings, pottery, pillows, throws and more, all perfect for giving. Additionally, the store carries an array of candles in every style and scent imaginable, as well as scented, handcrafted soaps. And, make sure to visit the Christmas section, with items available year-round.
Jewelry: The gift of beautiful jewelry is always welcome, and you're sure to find the perfect item at the Speculator Department Store. The store carries bracelets, earrings, necklaces and more. And, if you're looking for a truly unique present to give someone special, you'll find an assortment of lovely jewelry made right in the Adirondacks by talented local artisans.
Sporting Goods: For the avid outdoorsman or woman on your list, you can find a wide selection of sporting goods at the store. There's an eclectic assortment of outdoor and water toys, fishing tackle and supplies, water shoes, floats, camping supplies, hats, flashlights and more.
Toys & Games: Looking for unique children's gifts? The Speculator Department Store carries a little something for your little someone! From high quality plush animals, to a wide variety of puzzles, books and board games, to outdoor toys, you'll find the perfect gift for every child on your list.
Baby Gifts: Make Baby's first Christmas extra special with the thoughtful gift you'll find at the Speculator Department Store. From tiny-tot clothing to bibs, books, rattles and collectibles, the store carries adorable items and treasures perfect for your cherished little one.
Get the gifts you need for teachers, friends, and family this holiday season at the Speculator Dept. Store.
So if you're in Speculator, make sure to stop by and visit the Speculator Dept. Store, for all your gift-giving needs this holiday season! The store is open Monday through Sunday, from 9 a.m. to 5 p.m. Have a question about a specific gift item you're looking for? Give them a call at 518.548.6123 and they will be happy to help.