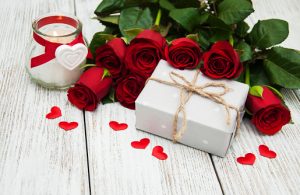 With Valentine's Day fast approaching, you might be looking for a gift for that special someone in your life. Did you know that at the Speculator Department Store, we carry a wide range of gift-worthy items? From mugs to bracelets to snuggly slippers, and everything else in between, you're sure to find the perfect Valentine's Day present for your sweetheart, right at our store.
We carry some of the best clothing and shoe brands available, so if your Valentine loves clothes, we're likely to have the perfect gift. And, we have accessories like scarves, purses and gloves, so you're sure to find something they'll love. Not to mention, we have many handcrafted gifts available at the store, including jewelry made by local artisans, soaps, candles and wall art. Even if you have a special someone who can't get enough of Christmas you're in luck – we have a section of our store that's devoted to the most wonderful time of the year, year round!
Here are just a few of the gift-worthy items we carry at the Speculator Department Store:
Jewelry: Handcrafted items, earrings for those with sensitive skin, jewelry made by local artisans
Candles: Jar candles, votives, tapers and handmade products
Gourmet Treats: Mixes, sauces, treats and condiments
Clothing: Items from brands like Columbia, Pendleton, Carhartt, Minnetonka and more
Housewares: Glassware, plates, bowls, napkins, placemats, tablecloths and decorative tableware
Knickknacks: Willow Tree, Adirondack-themed, souvenir items, decorative mugs and our Christmas shop
Wall Art: Fun sayings, Adirondack-themed, lighted art and fine art and photography from local artists
Stuffed Animals: Traditional teddy bears, Adirondack friends (bears, moose, wolves, owls), beanbag style and more
Bath & Body Products: Artisan soaps, natural products, honey and beeswax based products, lotions and more
With so many gift items to choose from, why would you do your Valentine's Day gift shopping anywhere else? There is something for everyone at the Speculator Department Store, so you can shop for your special someone, your children, your mother – anyone you'd like to extend a little extra love to this year. We have a wide range of prices, too, so you'll be able to find something beautiful and stay within your budget. So don't wait – come on down to our store and let our Cupids help you find just the right gift.