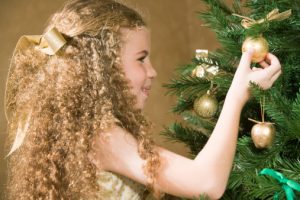 Nothing says Christmas quite like a lovely spruce tree adorned with lights, ribbons, carefully selected ornaments and of course, the star or angel on top. But knowing how to achieve the perfect balance when it comes to tree decoration can be challenging. That's why we're sharing some tips on decorating from domestic guru Martha Stewart. We hope these suggestions help you enjoy stress-free tree trimming this holiday season.
Setting up your tree: Choose a spot in your home that's fairly low-traffic, and away from heat sources like fireplaces and heaters. If you have children or pets, you can secure the tree by tying fishing line around the trunk and through screw hooks fastened to the wall.
Pruning your tree: If you have a natural tree, you will need to carefully prune it a bit so ornaments can hang freely. Looking at your tree from a distance can give you a good idea of where needs pruning. Trim the small twigs that jut out from the top and bottom of the branches.
String your lights first: Before you do any decorating, you should string your lights. Start at the bottom of the tree. For a fuller effect, string lights along length of each branch, rather than hanging lights only around the perimeter of your tree.
Create your ornament theme: Decide on a color palette or theme beforehand. Choose simple, one color ornaments (like round red bulbs, for instance) to form the backdrop for your fancier or heirloom ornaments.
Hang your ornaments: Visually dominant ornaments should be hung first, and then filled in with accent ornaments that complement them. Hanging your ornaments from thin wire rather than the provided hooks can help prevent ornament breakage. Wrap wire around branches until the ornament is secure.
Step away from the tree: To take a better look at it, that is. Stepping back can give you a better perspective of areas that need to be filled in. For depth, add ornaments inside the tree and not just near edges. Don't forget the back of the tree!
Know where to hang ornaments: You should place fragile or heirloom ornaments toward the top of the tree, where they're less likely to get knocked off. Hang vertical or dangling ornaments at branch ends to emulate the look of icicles in nature.
Did you know you can find beautiful holiday ornaments and decorations at the Speculator Dept. Store? We carry a complete section of Christmas décor that's sure to make your season merry and bright. Visit us today and pick up a little holiday cheer for someone on your gift list – and for yourself, too. Happy decorating!