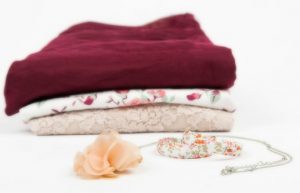 Summer lends itself to lots of opportunities to wear pretty dresses, from weddings and graduations, to class and family reunions. A great dress can often stand on its own, but the right accessories can add interest and beauty to your ensemble. Sometimes it can be hard to know what accessories complement your dress rather than overwhelming your look. What is the best way to accessorize your dress? We found some hints on WikiHow.com that make completing your outfit easy.
First of all, the website suggests that you match your accessories to the color of your dress. You should choose pieces like necklaces and earrings that are similar in color. For instance, if you have a dark blue dress, choose blue accessories to accompany it. They don't, however, have to be an exact match. You can pair a royal blue dress with a deep sapphire and silver necklace or bracelet.
You can also match your accessories to a detail of the dress, which works great with floral or patterned dresses. For instance, if you choose a black dress with red cherries with green leaves on it, you can choose red or green accessories to match. And, if you're wearing a patterned dress the website offers that you keep accessories simple. Solid colored purses and shoes, and simple jewelry like ball earrings are the best bet.
Wearing a dress that's a solid bright color like vibrant yellow or fuchsia? It is better to choose a neutral colored accessory, like white, black or beige. Conversely, if you're wearing a solid-colored neutral dress (such as navy, black or tan), you might want to choose bolder accessories, like brightly beaded necklaces or rings and bracelets with bold gemstones.
Finally, the site suggests that if you choose to wear metallic accessories with your dress, that you match them to the tone of your dress. For instance, gold and copper accessories look better with warm colors like reds, oranges, browns and some yellows. Silver and platinum jewelry looks great with cool blues, purples, turquoise, blacks and greys.
If you're looking for a beautiful new dress – and the right accessories to go with it – visit the Speculator Department Store. We have a complete selection of women's clothing including dresses, as well as accessories such as scarves, purses and jewelry. Come visit us today and see all of the great items on display!