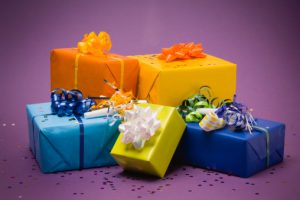 When May arrives, so does the season of gift giving. Mother's Day, Father's Day, college and high-school graduations, and the end of the school year are all gift giving occasions. This year, give yourself a break from all the hustle and bustle of city shopping and come see the great items we have for you at the Speculator Department Store. We'll help you find everything you need for all the special people in your life.
For Moms: No matter what your mom likes, at the Speculator Dept. Store, we're sure to have just the right gift. From beautiful jewelry handcrafted in the Adirondacks and fashionable clothing items and accessories, to specialty soaps, scented candles and all-natural beauty products from the Naked Bee, we're stocked with gifts your mother is sure to love.
For Dads: Is your dad a rugged outdoorsman? Check out our men's clothing and outerwear from Pendleton, Carhartt, and Columbia, sure to keep him comfortable on his hiking, hunting or fishing expeditions in the Adirondacks. Not to mention, we carry everything Dad needs for his next fishing excursion – lures, lines, rods, reels and more.
For Teachers: Show your child's favorite teacher how important they are by giving them an end-of-year gift from the Speculator Dept. Store. We have knick-knacks, candles, mugs, photo frames and more, perfect for teacher appreciation. We even carry gourmet items like mixes, sauces and treats, so you can give that special teacher a gift that's always in good "taste."
For Grads: If you have a student who's graduating from high school or college, a thoughtful gift that helps them as they move on to the next step of their life is a perfect choice. Comfortable hooded sweatshirts, mugs with instant soups, cocoas, coffee and tea, even thoughtful greeting cards you can tuck some money or gift cards in, all make wonderful graduation gifts.
No matter who you need to find a gift for this spring and summer, count on the Speculator Department Store to help you find just the perfect present. The Speculator Department Store is open Monday – Sunday 9 a.m. – 5 p.m., and is located in the heart of scenic Speculator, N.Y. Stop in and start shopping for Mom, Dad, teachers and grads today!