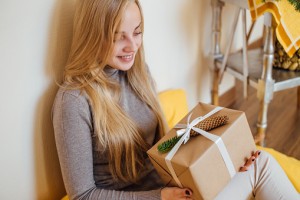 If you have a son or daughter who is in their first year at college, and they're attending school in an area where winters can be harsh, they might not have any idea how chilly it can be walking the campus for class. Trudging up a snowy sidewalk on a blustery February morning is a lot different than going from a warm school bus into a cozy school building. Sending them back for the winter/spring semester with items that will reduce the chill will help them enjoy college life just a little more. By wrapping up a care package that you tuck away in their luggage or send to their dorm, you'll show them you care… and they won't be able to protest too much. Here are five ways you can build a care package that will keep them warm – inside and out!
Warm Woolen Mittens: Your student probably has the requisite jacket and boots, but chances are pretty good they don't have (or have lost) their hats, mittens and scarves. Make sure to add some warm outerwear accessories to your care package. You can shop for quality Columbia knitwear at the Speculator Dept. Store, as well as quality Columbia coats and jackets.
Hot Cup of Cocoa: Nothing says "love" quite like a nice mug of hot cocoa, complete with marshmallows. Send your child back to college with a variety of warm-up beverages, including cocoa, teas, instant coffee and hot apple cider. You can also include some instant soups, for meals on the go. Pick up a souvenir mug from the Speculator Dept. Store so that your student can experience a little bit of home with every sip.
Chicken Soup for the Soul: College students have to pinch their pennies, and sometimes that can come at the expense of healthy meals. Stock the care package with some canned or dry soup mixes. Make sure that what you send can be easily made in the microwave! Hearty soups are good to have on hand for snowy winter nights, when your student might not want to make the trek to the dining hall.
Cuddly & Cozy: Most people love a comfortable hooded sweatshirt they can snuggle down into when the weather gets chilly, so packing a warm hoodie into their care package is a great idea. At the Speculator Dept. Store, you'll find a variety of hooded sweatshirts in a variety of sizes and colors (even tie-dye!) You're sure to find the perfect one for your special college student!
Comfort Food: Sometimes the routine of the college dining hall can get a little stale. The good news? Most pizza restaurants deliver to college campuses. The bad news? Being in college means not having a lot of cash to squander on takeout. Tuck a few gift cards to pizzerias or restaurants near your student's campus, and they're sure to appreciate it when they just can't face another dining hall dinner.
Filling the care package with touches of home will not only be appreciated, but it will help them transition back into dorm life much more easily. At the Speculator Dept. Store, we have many items that you can pack away for your student that will come in handy once they're back on campus. Just visit our store in Speculator, NY and check out all we have to offer.