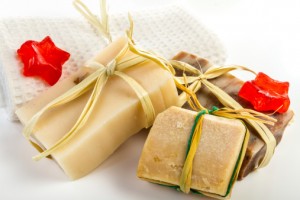 If you're looking for a great gift to give to a teacher, hostess or for a work or club gift exchange, you might want to consider artisan soap. Not only does it make a unique and appreciated gift that smells great, it also can do some good for your local area. At Speculator Dept. Store, we carry handcrafted artisan soaps from Adirondacks Fragrance & Flavor Farm.
Located in Potsdam, N.Y., the company produces soaps and other products using local organics. In addition to their handcrafted soaps we offer at our store, Adirondacks Fragrance & Flavor Farm also produces fragrance products, luxury body care, cleaning products and gourmet food items. The handmade soap items we sell contain the finest ingredients, with most botanicals grown right on the company's farm. Not sure if handmade soap is the right choice for your gift-giving needs? Here are five great reasons to try it:
You're supporting a small business. When you choose artisan soaps, it's likely that the producer is a small, local business that puts the money you spend back into the local economy.
You're getting a quality product. Most of the time, handcrafted items like soaps are made in small batches, and much more individual attention is paid to details.
You're getting local ingredients. At Adirondacks Fragrance & Flavor Farm, many of the botanicals used in their soaps are grown right on their own farmstead, and additional ingredients are locally sourced from other vendors.
You're choosing a unique gift. By giving artisan soaps or other handcrafted items, you're giving a gift that shows you appreciate individuality. These types of gifts are perfect for those one-of-a-kind friends and family members.
You're giving a natural gift. Many people today worry about what they use on their skin, and rightly so. Handmade soaps usually use base oils like olive, sunflower and coconut, and natural fragrances and essential oils.
At Speculator Dept. Store, we offer Adirondacks Fragrance & Flavor Farm soaps in six wonderfully fragrant varieties. Choose from Adirondack Balsam, Mud & Roses, Cedar, Marigold, Birch and Balsam Lavender. And, when you pair them with one of our Adirondack-themed robe and towel sets, you can create a bath-themed bundle that's just perfect for gift giving. For more holiday gift ideas, stop by our store in Speculator, N.Y., and we'll be happy to help you find just the right present for everyone on your nice list.