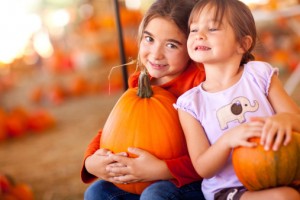 Nothing says fall quite like that brilliant orange orb of color that graces many a front stoop come autumn – the darling of October, the pumpkin. The pumpkin has enjoyed a renaissance of sorts over the past few years, with many popular beverage chains offering pumpkin spice coffees and lattes, as well as baked goods featuring fall's favorite fruit. Pumpkin spice has even become a favorite beer flavor, with many craft brews vying for the season's best pumpkin ale. But how can you simply pick the best pumpkin for your fall décor? Here's a helpful, brief tutorial so that you can choose the right pumpkin for your fall porch, and lengthen the life of your pumpkin if it's destined to become a jack-o-lantern.
You might be a pumpkin aficionado, and if you are, you know there are many more pumpkin shades than the traditional orange most of us grew up with. There are pumpkin varieties that come in white, beige, even green and yellow! With so many pumpkins to choose from, how can you make sure yours will last the season and complement your decorating scheme? First of all, orange is always a great choice as far as pumpkin colors go. Traditional orange pumpkins offer a lively pop of color as the earth starts taking on the more umber tones of tan, brown and brick. Look for brilliant orange pumpkins void of insect or rodent bite marks, soft spots, or cuts and choose those with dark green stems (those are the most recently harvested).
If you choose to carve your pumpkin, you should know that its lifespan will be greatly shortened. Usually, it won't last more than a few days after being carved. So if you want it around for Halloween night, make sure you carve it only a few days before the holiday. There are a few things you can do to make your jack-o-lantern last a little longer. One tip is to coat the cut edges of your jack-o-lantern with a light dabbing of petroleum jelly or vegetable oil. Use a cotton swab for easy application. Make sure you don't place your carved pumpkin in direct sunlight (if you think about it, that's kind of like slow-cooking it!) For added protection, you can cover it with a wet towel.
If you have enough room in your fridge, store your pumpkin in there overnight. Not only will it help stave off decay, but also it will keep it safe from squirrels – and neighborhood tricksters. If you're concerned about your jack-o-lantern getting moldy, add a teaspoon of bleach to a bucket of water, and dip your pumpkin in it to inhibit mold growth. You may even consider preserving the life of your pumpkin the same way you preserve your up-do – by giving it a coat of hairspray. You can also use clear acrylic spray – either way, the thought behind this is that it will seal the pumpkin's flesh, inhibiting moisture loss.
If you want to decorate your pumpkins but don't want to contribute to their untimely demise, you can always paint your pumpkins. The benefit to doing this is that painted pumpkins can last for months, and is a great project for littler hands that might have difficulties carving a jack-o-lantern. You can draw the faces on with permanent marker, and then paint the pumpkin using any kind of acrylic craft paint. Depending on the kind you buy, acrylic paints are pretty inexpensive, so you can experiment with lots of different colors and concepts. After painting on the face, let the paint dry for about 15 minutes or so, and then spray with a clear acrylic to preserve your masterpiece.
There are so many varieties of pumpkins out there now that you might have a hard time knowing which one to choose. (Can you believe there are actual varieties called Orange Smoothie, Cotton Candy and Baby Boo?) Here's what we think is the best hint of all for choosing the perfect pumpkin – pick the one you like! Think back to when you were a kid, when choosing the pumpkin for your jack-o-lantern was a magical experience, and relive it this year when you visit your favorite pumpkin patch! Whatever pumpkins you choose – enjoy them, and the special joy they bring.