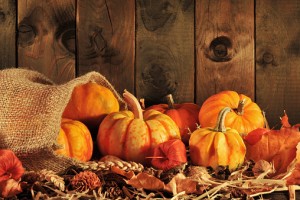 With Halloween and Thanksgiving coming soon, you're probably seeing pumpkins and gourds everywhere right now. There are so many different shapes, sizes and varieties; it's easier than ever to add them to your holiday decorating. Whether carving them and setting them outside for a spooky Halloween night delight, or painting them and placing them around your home for your interior seasonal decorating needs, pumpkins and gourds certainly can warm up your fall decorating. Here are a few ideas how you can incorporate pumpkins and gourds into your seasonal décor this autumn.
"Gourd-eous" Candle Holders: Making a set of candleholders is as easy as pumpkin pie when you use gourds or small pumpkins for your vessel. Simply cut off the top of a gourd or small pumpkin and remove the seeds and membranes in the center, like you do when preparing a pumpkin for carving. Then add a votive or pillar candle, depending on the size of your gourd. Choose a seasonal scent like pumpkin spice if you wish, and tie a raffia ribbon around the center of the candle for added fall flair.
Take-Home Gourd Vases: Choose tall gourds that stand up easily. Cut off the tops and hollow them out, and add your favorite fall flowers, like mums, black-eyed susans, and zinnias. Use them as fall table displays for get-togethers, and let your guests take one home when they leave. You can even decorate the gourd with your guests' names, if you choose.
Pumpkin Messages: Pumpkins are the perfect canvas for a fall message. Simply paint your message, such as "Welcome" or "Happy Halloween" on your pumpkin using black acrylic paint. If you'd like to get a bit more creative, you can take small pumpkins and spray-paint them various colors, and then paint an individual letter on each to form a word when you place them together. For instance, take three small pumpkins and spray-paint them white. Using black acrylic paint, paint the letter B on one, the letter O on another, and the third with an O as well. Line them up on a table or your porch to read B-O-O! The possibilities are endless – be creative!
Elegant Gourd Display: Select a variety of gourds and spray-paint them in metallic tones, like gold, bronze, copper and silver. After they dry, stack them on a glass cake plate and use as a creative, elegant centerpiece for your table. Additionally, you can take some of the smaller painted gourds and affix nametags to each with a pushpin or decorative brad, and use as a unique place card for your next gathering.
"Spooktacular" Creatures: Pumpkins lend themselves to being painted to resemble any number of spooky Halloween creatures. Create pumpkins that resemble black cats, owls or even imaginary creatures by painting them with acrylic paints. You can add other natural elements like leaves and twigs to your design to create your very own unique Halloween animal. Or, why not paint a pumpkin white, add lines around to create a spider-web look, and affix a hairy, scary decorative spider to the top? Make it an activity for the whole family for a fun display that highlights everyone's unique personality.
Remember, you can find candles, tableware and many other beautiful fall items to complement your gourd and pumpkin displays at the Speculator Department Store. There, you'll find a wide selection of houseware items that will make your autumn decorating a snap! Stop in and visit us today at our Speculator, N.Y. location.