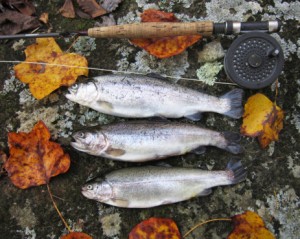 Before the snow flies, there is surely time for at least one more fishing trip.
The sport of fishing has been around for thousands of years, and there might not be as enjoyable a time to go on a fishing expedition than in the fall. The bugs, heat, and humidity of the summer are gone, leaving only crisp autumn air to keep you invigorated for your angling adventure. And while the peak season for fall foliage may have already passed in the Speculator region, there are still plenty of colors out there to set the backdrop for your time on the water.
Just remember, some fishing seasons — like the trout season — have ended, so it's always a good idea to plan to return the fish to the water. The Speculator region and Hamilton County encourages catch and release  — so please take only what you need and set the rest free back into the water for the enjoyment of others. Who knows … you may even land the same fish again next time. And don't forget the camera so you can document the catch of the day before setting it free.
Even as some fishing enthusiasts shy away from the heat and humidity of the summertime, so do many fish as they swim to deeper and cooler waters where they are harder to find. They come back out of their hiding places in the fall and will once again be the target for a well-placed fishing line.
There are many places around the Speculator area where fishermen and women like to hunt, including, but certainly not limited to:
Lake Pleasant, with 9.6 miles of shoreline accessible from a boat launch on the pavilion side of the Speculator Bridge or an unpaved town launch at the outlet of the Sacandaga River. There is also a launch at Lake Pleasant Marina.
Lake Algonquin, with 6.1 miles of shoreline accessible from the public boat launch on the back of the lake.
Sacandaga Lake, with 13.2 miles of shoreline accessible from Moffitt Beach State Campground.
Piseco Lake, with 21.3 miles of shoreline accessible from three DEC campsites.
Oxbow Lake, with 4.3 miles of shoreline located on a state forest preserve, accessible from an unofficial launch on the east end of the lake.
Fishing dates back to Biblical times and before, to an age where the lakes and streams provided hungry fishermen and women with a main food source. It offers the perfect combination of sport, nature, recreation, fresh air, and the chance to enjoy the day with friends. Pack a lunch, and a favorite beverage or two, and come out to enjoy all the Speculator waters have to offer this fall.