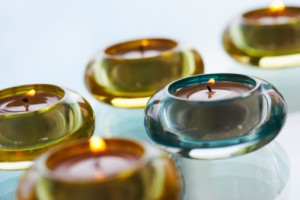 Nothing is more inviting in a home than the warm glow of candlelight. With many candle manufacturers creating delectable fragrances, burning candles in your home can create a beautiful ambiance that you, your family and your guests will enjoy. With more and more people using candles to decorate and accentuate their homes, however, candle safety has become an issue over the past few years. The National Candle Association cites that nearly four percent of all residential fires in the United States are attributed to accidental candle fires – and that 85 percent of those fires could be avoided had consumers followed some basic candle safety rules.
You can make candles a beautiful – and safe – addition to your home when you follow these five rules:
Keep your eye on your burning candles. It's best if you place lighted candles within your field of vision. Put them out when you leave the room or go to bed. Pay close attention to children and pets around candles, and keep them away from anything that could catch fire, like drapes, decorations or paper items.
Take heat resistance seriously. Place your candle on a heat resistant surface and make sure that surface is stable. And, make sure the holder your candle is in has been specifically designed for use with candles. And, don't touch the candle when it's burning or when the wax is melted – otherwise, you could get burned!
Follow manufacturer instructions. We can't stress this enough. Candles are formulated differently and burn differently. Burning the candle according to the exact safety instructions provided by the manufacturer is the best way to ensure safe use. If you're unsure of safety instructions, check the manufacturer's website.
Use your candles properly. Most are intended for decorative purposes, and are to be burned in your presence. Using them during a power outage can be hazardous, so you're better off using flashlights and battery powered lanterns. Never use your candle as a nightlight.
Extinguish your candles the right way. Blowing out candles can be dangerous, because the hot wax can splatter. It's best to use a snuffer. Water can also cause the wax to splatter, and the container holding the candle to shatter. Put your candle out if it smokes, flickers or has a high flame – it's not burning properly.
Candles can be used in so many different ways – they can be part of a celebration, a symbol of romance, a soothing retreat from daily life or simply an element of home decoration. When used safely, you, your family and your guests will enjoy them and all the warmth and comfort they offer. By observing the candle safety rules illustrated above, as well as by your candle's manufacturer, you'll easily enjoy their beautiful glow and the ambiance they add to your home's look, feel and scent.
At the Speculator Dept. Store, we have many beautiful candles to choose from, such as votives, tapers, pillars and jar candles. We offer a variety of brands, types and scents and would love to help you choose the perfect candles for your home or occasion. Stop in and visit us to see our vast array of candle products for your home.