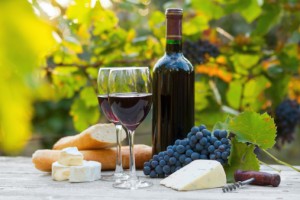 Summer is a time for relaxing and unwinding. The days are longer, and even though most of us still have to work, evenings and weekends are made for enjoyable get-togethers at home with friends and family. If you've been thinking about having a nice evening with your favorite girlfriends, why not spend the evening in, enjoying the dynamic duo of wine and cheese?
If you've been thinking of having a wine and cheese party, there are a few simple ways you can make it feel more like a special occasion. Simple, yet elegant decorations and a couple of fun games can make it seem less like a chat session over food and drinks, and more like a party to remember.
Choose beautiful platters, cheese knives and stemware for serving. Get out your favorite cheese board, offer up crackers in wicker baskets or wooden bowls, and light some unscented candles (scented candles will distort the taste of the cheeses and wines). If it's a beautiful night, take advantage of it, and plan your party on the deck for an even more relaxed atmosphere. Create a soft, casual ambience by adding some pillows and throws to your outdoor furniture, and light tables with oil lamps or candles in mason jars.
Pair your wines and cheeses accordingly. Fruity, sweet wine goes best with most cheeses. Pair by age – aged wines and cheeses are perfect for each other! Creamier cheeses go well with lighter, more acidic wines. Reds are a great accompaniment for harder cheeses, while white wines and soft cheeses play well together. Wines from certain regions go best with cheeses from the same, such as champagne and Brie. If you're still not sure about your pairings, refer to the suggestions below:
Merlot or Cabernet Sauvignon– Great with sharp cheddar, Monterey Jack and Gouda. Enjoy with walnuts and apples.
Sauvignon Blanc – Delicious with goat cheeses such as chevre and feta, as well as Parmesan. Serve with tomato and cucumber slices.
Chardonnay – An excellent choice for soft cheeses with ripe surfaces, like Camembert and Brie. Believe it or not, buttered popcorn is a great accompaniment.
Riesling – Once again, Brie is a great cheese to enjoy with Riesling. For an interesting twist, consider trying Blue Brie, which is a very creamy bleu and Brie blend. Serve with baguette.
Add some soft background music, and you've planned the perfect wine and cheese party for you and your friends! If you'd like, add in a game or two, like a wine word find or a blind taste-test to see who knows their wines and cheeses best. Game winners will appreciate simple gifts like a bottle of wine, a corkscrew, or a small cheese board and knife set.
You'll find beautiful prize ideas at the Speculator Department Store. We carry a full lineup of beautiful houseware items that will be perfect for gifts and prizes, as well as for your own table – platters, cheese boards, stemware and more! Visit us today and let us help you make your girls' night in one to be remembered!