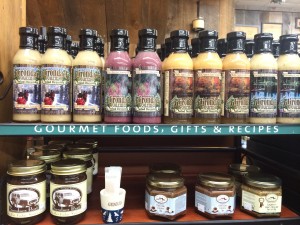 If you're tired of all of the heavier foods often associated with the winter months, it might be time to lighten up your eating habits for the changing of the seasons. While we seek the comfort of stews, casseroles and crock-pot dishes throughout the winter, lighter eating come spring can be just as comforting. So get ready to come out of hibernation – and enjoy this light yet flavorful salad from dietician Sally Twellman. It combines the bite of Gorgonzola, a thinly veined Italian bleu cheese, with the sweetness of ripe pear and tartness of dried cranberry.
Her pear and Gorgonzola salad comes complete with a recipe for champagne vinaigrette, but if you're looking to cut down on prep time, you can choose some of our delicious dressings from the Adirondack Gourmet, available at the Speculator Dept. Store.
Pear & Gorgonzola Salad with Champagne Vinaigrette
For the Salad:
1 ripe Anjou pear, thinly sliced
8 cups of baby spinach
2 oz. Gorgonzola cheese
¼ cup dried cranberries
Cracked black pepper to taste
For the Champagne Dressing:
3 tbsp. Champagne vinegar
2 tbsp. olive oil
¼ tsp. coarse sea salt
Fresh cracked pepper (generous amount)
1 clove garlic, crushed
Best Served With:
Boiled eggs
Grilled chicken
Grilled fish
Instructions:
Combine the dressing ingredients in a bowl and whisk vigorously, dissolving the salt and emulsifying the oil and vinegar. Set aside; whisk again before serving. Put spinach into large salad bowl; toss with dressing. Plate the spinach, and top with cranberries, pears and cheese. Enjoy!
You can find the basic ingredients you need for your pear and Gorgonzola salad at Charlie Johns each and every day. If you're looking for a gourmet experience, check out our offerings right here at the Speculator Dept. Store. Besides dressings, we offer a variety of locally produced gourmet sundries, including dips, mustards, sauces and mixes. Stop by our store today to find out more!