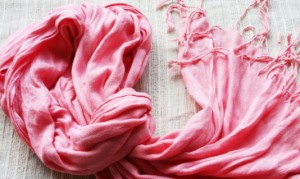 Although it certainly doesn't feel like time to put away the woolens quite yet, spring will officially be on the books on March 20 at 6:45 p.m. Spring harkens that time of the year when we open the windows and let the clean air in, sweep out the corners and clean out all the things we've accumulated over the long winter. It's also a great time to take a look at your wardrobe and see if you have all the staples you need for the warmer season ahead. Along with your basics, it's good to have a few items in your closet to brighten up your wardrobe and chase the straggling winter blahs away for good.
Cotton polo shirts in light colors like yellows and pinks are always good to have in your spring wardrobe. They're casual, but more tailored than a tee shirt, so you can wear them for a variety of occasions in and out of work. Cotton clothing in general, including blouses, cardigans and sweaters, are a good choice for spring days that often start out cool but warm up as the day progresses. Even a lightweight cashmere Pendleton sweater is a great addition to your springtime wardrobe – especially for those heavily air-conditioned offices, shopping malls and movie theaters.
Pleated skirts, Capri pants and chinos are great bottoms for spring. You can dress each of these items either up or down, depending on the top you choose and accessories. For instance, you can make your skirt more office-ready with a tailored shirt and jacket, or dress it out for a casual date-night with a crisp tee or tank top. Solid color Capri pants look great with printed, springy tops, and chinos are as appropriate for a stroll in the park as they are for the office. Dress your outfits up with scarves in fun colors and prints, chunky jewelry and lighter shoes like espadrilles, sandals and ballet flats.
Of course, you'll want to make sure you have the right outerwear for the spring months. The weather can be wet and somewhat unpredictable, so be prepared for an April shower with a lightweight, waterproof raincoat and umbrella. You can keep both in an oversized carryall bag in spring tones and floral or pastel polka-dot patterns. Spring is a time when you can have a little fun with your clothing and accessories, and it feels great to dress in a fresh burst of color after being bogged down by the greyness of winter! Even for those who prefer a classic-toned wardrobe of black, grey, navy and beige, adding a pop of pink, peach or yellow here and there can help you brighten up your closet – and your outlook!
When you want to add some fun spring pieces to your wardrobe, you should know the Speculator Department Store carries a wide array of women's clothing, shoes, outerwear, accessories and jewelry. We can't wait to help you liven up your closet, with great brands like Pendleton, Columbia, Minnetonka and more. Visit us today and browse our collections – we think you'll love our quality and variety!