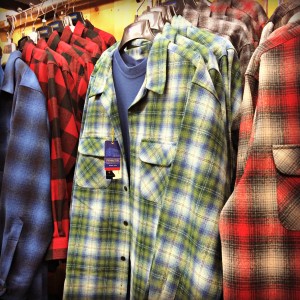 Pendleton is known for producing quality clothing, but did you know that the company actually has an interesting history here in the United States? Started by English immigrant Thomas Kay in 1889, Pendleton has a story that is as rich as the American tapestry itself. Kay was a young English weaver who had come to America several years before to work in East Cost textile mills. Perfecting his craft over the years, Kay decided to head to the wilds of the west, to the newly formed state of Oregon. In an area perfect for sheep farming, Kay knew that the wool industry would flourish there. He started working in a woolen mill there, and opened his own mill in Salem, Oregon in 1889.
It was when Kay's daughter Fannie, who assisted her father in the day-to-day operations of the mill, married retail merchant C.P. Bishop that what would become Pendleton Woolen Mills began to take shape. Their three sons, Clarence, Roy and Chauncey, furthered the business in 1909 when they purchased a mill in Pendleton, Oregon that had been shut down for several years. They constructed a more efficient mill building, and in September of that year, their first products became available – and Pendleton Woolen Mills began.
Initially, the Bishop family produced blankets for Native Americans in many beautiful colors and patterns. The Nez Perce Nation, as well as the Navajo, Hopi and Zuni nations used them as trade and credit among their nations. They were used as apparel, and became prized for ceremonial use. Then, in 1912, Pendleton began its men's apparel line when they added a weaving mill in Washougal, Washington. Wool shirts were mostly for utility purposes, for working outdoors as protection from the elements. Clarence Bishop, however, had the idea to create shirts that reflected the vivid colors and patterns seen in the Native American blankets the company produced. From there, the virgin wool men's shirt was created, and by 1929 Pendleton had created a full line of men's sportswear.
Womenswear came into being in 1949, and the lineup started with a bang with the 49er jacket – a wool shirt-jacket in a variety of colors and patterns that could be worn loose or belted, collar up or down. It was a perfect complement to the menswear style of women's clothing of that era (think Lauren Bacall in "Key Largo"), and took off in popularity the moment it hit the stores. There was a definite need for women's woolens throughout the fall and winter months, but Pendleton recognized that consumers wanted their signature style year round. In 1972, they introduced their non-wool menswear and womenswear lines for spring and summer.
Today, Pendleton clothing is available at Pendleton shops as well as select privately owned stores, like the Speculator Dept. Store. When you visit us, you'll be able to brows our complete Pendleton collection, made from 100 percent pure virgin wool fabrics as well as clothing made of other fine hand-milled materials. From dress clothing to quality outerwear, you'll find top of the line Pendleton business and casual clothing right at our store, open from 9 a.m. to 5 p.m. daily.