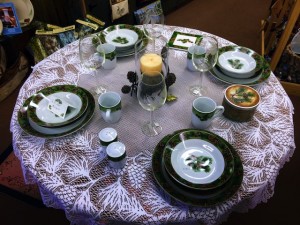 Thanksgiving is a time for family and friends to come together for a delicious, traditional feast and to give thanks for all the bounty the year has provided. Nothing is quite as warm and inviting as sitting down to a beautiful Thanksgiving table with the special people in your life. Here are a few ideas for making your Thanksgiving table one that will be remembered fondly for years to come.
Choose fall florals for a take-home centerpiece. Line the center of your table with small, potted mums in an array of fall colors, and allow each guest to take one home at the end of the celebration. You can alternate between your floral arrangements and taper candles for more warmth and flair. Just remember to choose unscented candles – although candles with apple, pumpkin and spice smell divine, that odor can interfere with the enjoyment of the Thanksgiving feast.
Create keepsake place cards. Beautiful ideas we've seen for place cards include handmade ones that share the person's name along with a brief sentence or two about why the host is thankful for them, cards that feature a special photo of the person, and hand-stamped ones that show a silhouette of the person to be seated. Small touches like handmade place cards make the Thanksgiving table all the more inviting.
Make the "kids' table" their own. Consider using a large sheet of butcher paper to cover the tabletop, and provide crayons for them to create their own Thanksgiving scenes. Create special place cards just for them with sugar cookies cut in the shape of turkeys or leaves, and adorned with their names (in frosting, of course!) If you know it will be a while before dinner comes out, consider having a small, non-messy craft for them to complete, like a coloring sheet featuring a turkey. That way, the kids stay happy and busy until the meal arrives.
Incorporate natural elements. Dried grasses and flowers, pinecones, gourds, dried corn, fallen leaves – they're all abundant this time of year. Bringing them to your table is a great way to create a warm, outdoorsy feel to your feast. If you have young ones staying with you for the holiday, you can create a scavenger hunt activity for them the day before to collect some of these elements for your table.
Choose your place settings. Eclectic or traditional, let the way you set your table be a reflection of you. Whether you choose contemporary pieces or your great-grandmother's china and silver, the way you set your table is a way to let your personality shine through. Beautiful, fabric placemats and napkins will add a special finishing touch to your Thanksgiving table, as will little extra touches like special serving dishes and salt and pepper shakers.
If you need help with ideas for setting a beautiful Thanksgiving table, you can find your inspiration at Speculator Department Store. We have everything you need for the perfect table, from quality placemats, napkins and tablecloths to place settings and serving dishes. You'll even find glassware and candles. So stop in today and find out how we can help you create a Thanksgiving table to remember.