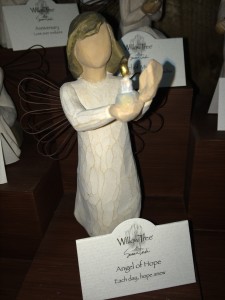 When you shop at Speculator Department Store for a gift for someone special, you'll be in for a treat. That's because we carry a variety of beautiful items that are perfect for giving. From home décor items to one-of-a-kind pieces of jewelry, you'll be pleasantly surprised by what we have to offer.
The Speculator Department Store is pleased to offer the popular Willow Tree collection. We offer a variety of Willow Tree angels and figurines, all of which are created to show moments in time that express love, joy, caring, and sympathy, just to name a few. Willow Tree sculptures use soft colors and simple accents, and often are based in nature. Many of the sculptures are shown with animals, flowers or plants that have symbolic meaning. Browse our comprehensive collection, and you're sure to find the perfect Willow Tree sculpture for friends, family, and teachers – just about anyone who is special to you.
If you're looking for a gift that's custom-made right in the Adirondacks, then you might want to consider Adirondack Garnet, a jewelry line that's handcrafted from garnets found and finished right in the Adirondacks. Owners Judy and Joe Brown of the Garnet Studio, which creates the Adirondack Garnet jewelry collection, cut, design and create unique pieces of jewelry that are as individual as they are beautiful.
Have someone on your list that loves all things Adirondack? Then you might want to consider checking out our home décor and housewares that feature icons of Adirondack living, such as bears, moose and pine boughs and cones. We offer wall hangings, plates, glasses, dinnerware and many other items that are reminiscent of the flora and fauna of the Adirondacks and are a beautiful addition to anyone's home.
If you're looking for a gift for a child, please visit our extensive toy section. You'll find a menagerie of stuffed animals that include Adirondack critters like fox, bears, owls, squirrels, as well as popular plush animals that include Hello Kitty and My Little Pony. And, check out our vast assortment of puzzles, card games and kids' crafts – perfect for those rainy days indoors.
When you need a unique gift for someone you care about, the Speculator Department Store is the perfect place to find what you're looking for. We're located at 2901 State Route 8 in Speculator, and are open Monday – Sunday from 9 a.m. to 5 p.m. If you'd like to speak to one of our friendly sales staff, please give us a call at 518-548-6123 and we will be pleased to assist you.