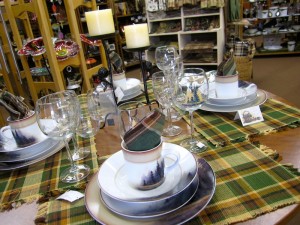 Winter was long this year, and no doubt you're ready to pack away every last reminder of that long, chilly season. Getting your home ready for spring is often a daunting task, but here's a simple checklist that will help you put winter away and welcome spring into your home in no time.
First of all, you want to get rid of all of the dust and dirt that winter leaves in its wake. Scrub your floors with a fresh, citrusy cleanser and wash the dust and buildup off your windows to let the sun in. Clean off shelves, tables and countertops. Now is a perfect time to assess what you use – and what you don't – and to send any unwanted or unneeded items to Good Will.
Next, pack away your winter goods until next year. Wash hats, mittens, scarves and gloves and store them away until the snow flies again. Put winter needs like scrapers, shovels and salt away in the garage, and get your spring and summer wear clean and hung back up in your closet.
Now, take down your heavier drapes, runners and tablecloths and replace them with lighter fabrics in bright, happy spring hues. Making these changes throughout your house, like new, springier towels in the bath and kitchen and sheers instead of drapes on the windows, invites spring into your home and asks it to stick around for a while!
If you have a bulb garden, fill your home with beautiful spring blooms from hyacinths, daffodils and tulips. They'll add a lovely spring scent throughout your house. And, now is the time to replace your candles with more seasonal scents. Speculator Department Store carries a full line of Yankee Candles in spring scents like Meadow Showers, Lilac Blossom and Lavender to help bring the scent of spring into your home.
Finally, doing something as simple as changing out your tableware can be the perfect finishing touch to revamping your home for spring. Trade out your more formal or heavier tableware for something light and colorful, and choose coordinating placemats, table runners or cloths and serving dishes to complete the look. You'll find beautiful tableware, including place settings, placemats, glassware and more at Speculator Department Store.
When it's time to freshen up your home for the warmer weather ahead, count on the Speculator Department Store to help you. From our complete lineup of spring-scented Yankee Candles to our beautiful collection of tableware, you're sure to find just what you need to spruce up your home for spring. We're located right in the heart of Speculator on Route 8, and are open Monday through Sunday from 9 a.m. to 5 p.m.