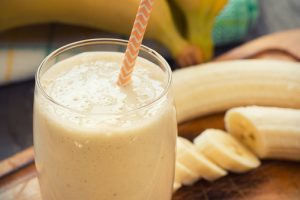 Have you been thinking of ways you can enjoy your nutrition on the go this summer? Smoothies are always a perfect choice. There are so many options when it comes to whipping up one of these nutrient-packed concoctions. Whether you prefer the lighter side, with fruits and veggies, or enjoy something with more protein, a smoothie can be a great choice for busy summer mornings. A few quick ingredients and a blender, and you're ready to go!
If you need a little extra protein to kick-start your morning routine, then you'll definitely want to try our Monkey Morning Smoothie. Combining bananas, peanut butter and the sweetness of honey, this smoothie is sure to keep you swinging all morning long! Not to mention, you can easily customize this to include chocolate, berries or other types of nut butters for a unique smoothie sensation.
Monkey Morning Smoothie
Ingredients
1 chopped banana
2 cups milk (or milk substitute of your choice)
2 tbsp. peanut butter (or nut butter of your choice)
2 cups crushed ice
2 tbsp. honey
Dash of cinnamon
Directions
Place all ingredients in blender; blend until smooth.
Serve in a chilled glass for a cool, delicious morning treat.
At the Speculator Dept. Store, we have a wide variety of beautiful houseware, so you can serve your Monkey Morning Smoothie in style. We carry glassware, napkins, placemats and table linens, so you can set a beautiful breakfast table. On the go? No problem. Speculator Dept. Store also carries travel mugs to make your smoothie portable. And, you can find all the ingredients you need for your smoothie right at our sister store, Charlie Johns. From delicious produce to the spices you need to flavor your recipes, they carry it all. Make sure to stop in and visit the Speculator Dept. Store and Charlie Johns today!